Nikolay Khozyainov is one of the most remarkable pianists of his generation. Still in his early twenties, his featured recitals and concerto engagements have already included sold out performances at some of the world's foremost stages such as Carnegie Hall and Lincoln Center in New York, the Kennedy Center in Washington, D.C., Wigmore Hall in London, the Louvre and Theatre des Champs-Elysees in Paris, Tchaikovsky Hall in Moscow, and Suntory Hall in Tokyo.
The Festival of the Arts BOCA is thrilled to have Nikolay perform in the Russian Fantasy concert on March 3. Thank you to Nikolay for writing such a lovely article.
From Nikolay Khozyainov
Festival of the Arts Boca is undoubtedly one of the most wonderful festivals in America. I am very happy and grateful to the organizers for inviting me to perform at this great music event.
I am very excited to play Rachmaninov's Third Piano Concerto with the Simfonia Orchestra and Maestro Kitsoupoulos on March 3rd. The music of this concerto is very poetic, but strong and powerful at the same time. I often perform works of Rachmaninov, I feel very close to him, and every time I feel with all my body, with my every cell how incredible his music is. It is so deep, touching, full of feeling. It is music that always changes something in you throughout your whole life, it makes you stop, stand still for a moment, it captivates and fascinates forever. This music reminds me of Russia, of the Russian soul, Russian nature, white birches that are sad, but unbroken by years and time. This concerto always makes me very emotional.
I am very proud to be playing in the sunny land of Florida, accompanied by the ocean, the immortal music of the Third Piano Concerto by the great Sergey Rachmaninov.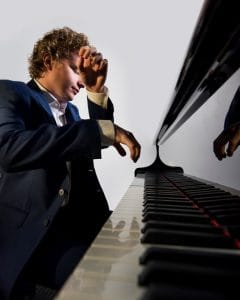 Be sure not to miss Nikolay in the Russian Fantasy concert at the Festival of the Arts BOCA for an evening that is poised to be wonderful on MARCH 3.