In mid-July, we attended a reception held at the Boca Raton Historical Society & Museum centered around Addison Mizner, the world-renowned resort architect who placed Boca Raton on the map. A lecture and book signing followed; Addison Mizner: The Architect Whose Genius Defined Palm Beach covers 360 pages by authors James Caughman and Stephen Perkins.
Mizner designed and built commercial and residential properties along Palm Beach's Gold Coast–and he developed Boca Raton. Mizner's Mediterranean Revival & Spanish Colonial style were far reaching and it was interesting to learn about the man behind the buildings. A modernizer of his time, he took a lot of liberties when designing–but also of importance to him was that they were well-designed for the real world.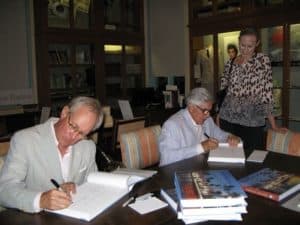 It was an hour filled with interesting anecdotes on Mizner and insightful commentary on the legacy he left behind. Mizner Park is an ode to Mizner and the Festival of the Arts BOCA is proud to call it home for 10 days each year.