Charles Fishman does not shy from big topics.
The Moon. Wal-Mart. Curiosity. Water.
A journalist who got his start in newspapers (Washington Post, Orlando Sentinel, News & Observer), he has worked at Fast Company since its founding, reporting on a wide range of stories – from babies to bombs, from the moon to airlines.
His work is driven by a relentless curiosity, a belief that there is always a new way to look at an "old" story.
"You can still write something fresh," he said in a National Press Foundation speech. "You should always be looking for something that other people are overlooking. The fact that they're overlooking it doesn't mean it's not important."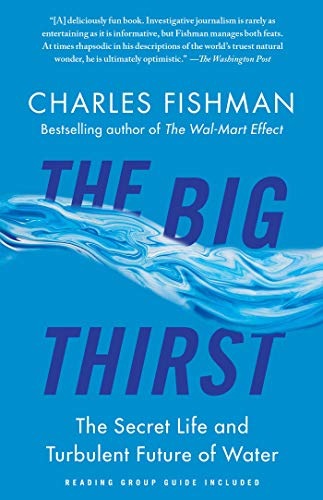 A three-time winner of the Gerald Loeb Award, the most prestigious prize in business journalism, Fishman has written four bestsellers: The Wal-Mart Effect, the first book to pierce Wal-Mart's wall of secrecy and explain how the retailer really works; A Curious Mind, with Hollywood producer Brian Grazer, exploring Grazer's fascinating meetings with some of our generation's most interesting people; One Giant Leap: The Impossible Mission that Flew Us to the Moon, a rollicking retelling of the race to the Moon in the 1960s; and The Big Thirst, an examination of the passing of the golden age of water and how water scarcity will soon be a major factor in our lives.
Praised as "an entertaining and torrential flow of a book" by Nature magazine, The Big Thirst explores how water is the most vital substance in our lives, but also more amazing and mysterious than we appreciate.
Water, Fishman write, runs our world in a host of awe-inspiring ways, yet we take it completely for granted.
And the era of easy water is over.
We delight in watching waves roll in from the ocean; we take great comfort from sliding into a hot bath; and we will pay a thousand times the price of tap water to drink our preferred brand of the bottled version. We love water — but we don't appreciate it or respect it, Fishman argues. And we must also rethink how we approach and use water. The good news is that we can.
As Fishman shows, a host of advances are under way, from the simplicity of harvesting rainwater to the brilliant innovations devised by companies such as IBM, GE, and Royal Caribbean that are making impressive breakthroughs in water productivity. Knowing what to do is not the problem. Changing our water consciousness is.
"Many civilizations have been crippled or destroyed by an inability to understand water or manage it, Fishman says. "We have a huge advantage over the generations of people who have come before us, because we can understand water and we can use it smartly."
Charles Fishman will be speaking about his book, and about The Future of Water, at Festival Boca on March 9, at 7 pm.