March 11, exactly 170 years ago, was the world's first performance of Rigoletto, considered to be one of Verdi's greatest opera masterpieces. And, as fate would have it, just five days before this anniversary, on March 5, Nadine Sierra, who made her 2015 Metropolitan Opera debut as Gilda, the female lead in Rigoletto, will be kicking off the 2021 Season of Festival of the Arts Boca. And one of the pieces she will perform for us? "Caro Nome," from Rigoletto, in which Gilda, deceived into thinking that the lecherous Duke is a student, professes her love.
Sierra grew up just next door, in Fort Lauderdale, and attended the Dreyfoos School of the Arts in West Palm. So she has been sheltering in South Florida with family during the pandemic.
It was her family that introduced her to opera, changing the trajectory of her life. When she was a young girl, her mother brought home a copy of La bohème on VHS. In a recent interview with Las Olas, Sierra recalled how, "When my mom showed me that VHS, I felt like I literally woke up. Not just artistically, but as a human, because I saw so much beauty and truth to what that art form was. And I had to have it, no matter what it took, no matter how hard it was. I didn't care.
"My mom warned me when I told her I needed to become an opera singer. She explained that I was going to have to sacrifice a lot of myself for the art form—because it's hard. It's the vocal equivalent of what ballet is to dance. She also knew that I'd probably have to sacrifice friendships and relationships, maybe even having kids. She knew all that was in my future if being an opera singer was my destiny. But I'm totally grateful for her introducing me to opera and waking me up that way. To this day, I feel so alive. If I lost that excitement at some point, or if I were to lose it in the future, I would stop. I wouldn't sing for the money or for the acclaim. That never really interested me. ... I craved the creativity part of it and the idea of, maybe, one day, reaching somebody watching me or listening to me the same way that VHS reached out to me."
Sierra has an active social feed
Since she began singing with the Palm Beach Opera at 14, the trajectory of Sierra's career has been like a rocket bound for the cosmos. She has accumulated many of opera's top honors and awards, and earned critical accolades from La Scala to San Francisco.
"Her voice with its pure, incisive and delicate timbre radiates tenderness in the middle register, while she floats her golden high register to the limits of audibility."
– Le Monde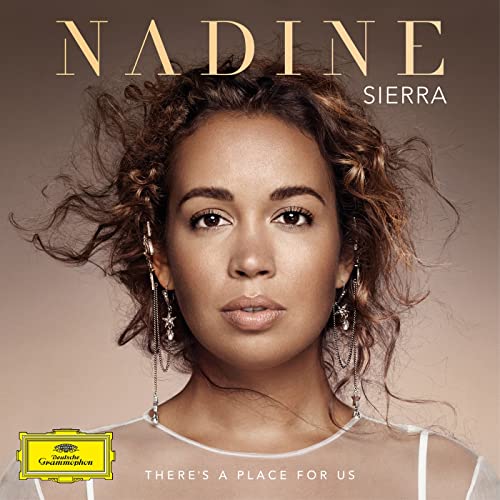 In 2018, Sierra released her debut album, There's a Place for Us, and New York's popular classical music station, WQXR, named it one of the best classical albums of the year. Featuring works by Bernstein, Villa-Lobos, Stravinsky, and others, the album not only showcase her stunning talents as a soprano, but also offers a reflection on America as a refuge for all. Sierra's own family roots lead back through Puerto Rico and Portugal.
When asked, in the Las Olas interview, about how important she feels the arts are for our culture, she replied that "Arts culture isn't just a way to satisfy a need for entertainment. It's another form of education—whether it's learning about our history, or [developing] an appreciation for creativity and where that comes from. It's about continuing to grow as human beings. Without that culture behind us, it's like you lose a part of your humanity. You lose a certain joy. And we humans need that."
Indeed. Nadine Sierra's debut performance at Festival Boca will take place Saturday, March 6, at 7 pm. It will be streamed for free, but you must reserve a seat in advance to receive your access link.