This year, when the Festival of the Arts BOCA's boat parade committee enlisted the creative talents of Board Member Cosimo Scianna, we knew we were in very good hands. Cosimo set out to create an 8 foot trumpet that surely dazzled and sparkled at the helm of the boat we decorated for the annual Boca Raton Boat Parade. The trumpet was such a hit that it is currently on display at Mizner Park for all to see on the block south of IPIC along Federal Highway. We are thrilled that the Festival trumpet has found a temporary home and to learn more about what it took to create it, we went straight to the artist himself to find out.
Cosimo, how did you get involved with the Festival of the Arts BOCA?
"I got involved through my wife, Irene, and my desire to be involved in the arts community in our new home of Boca Raton three years ago. The first year, I did a video of the entire Festival which I shot and edited and has been in the gallery on the Festival website. And for two consecutive years, I'm a Board member."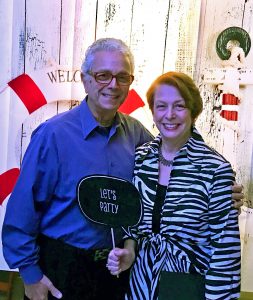 Cosimo and Irene attending the Boat Parade Award Ceremony
What is it about the Festival that drew you to it?
"Coming from New York where there is so much culture, it was exciting to find a high level of performance and literature right here in Boca."
You're from New York with a very interesting artistic background. Could you tell us a bit more about your professional experience?
"I was born and raised in Brooklyn and attended the School of Art and Design in NYC and Pratt Institute in Brooklyn. My background is in graphic design, illustration, photography and filmmaking. Once married, Irene and I moved to New Jersey to raise our family, but our business was located in NYC. We had a very busy and successful photography and film business geared to the advertising community."
Your professional expertise in set design really came in handy this year for the Annual Boca Raton Boat Parade!How did you come up with the design for the trumpet at the helm of the boat?
"In my career as photographer/filmmaker, I was always involved in set design and art direction. I wanted to represent the Festival on the boat as what it is -- a mostly musical performance and what better way to express that than with an 8 foot trumpet sparkling with an enormous amount of glitter!"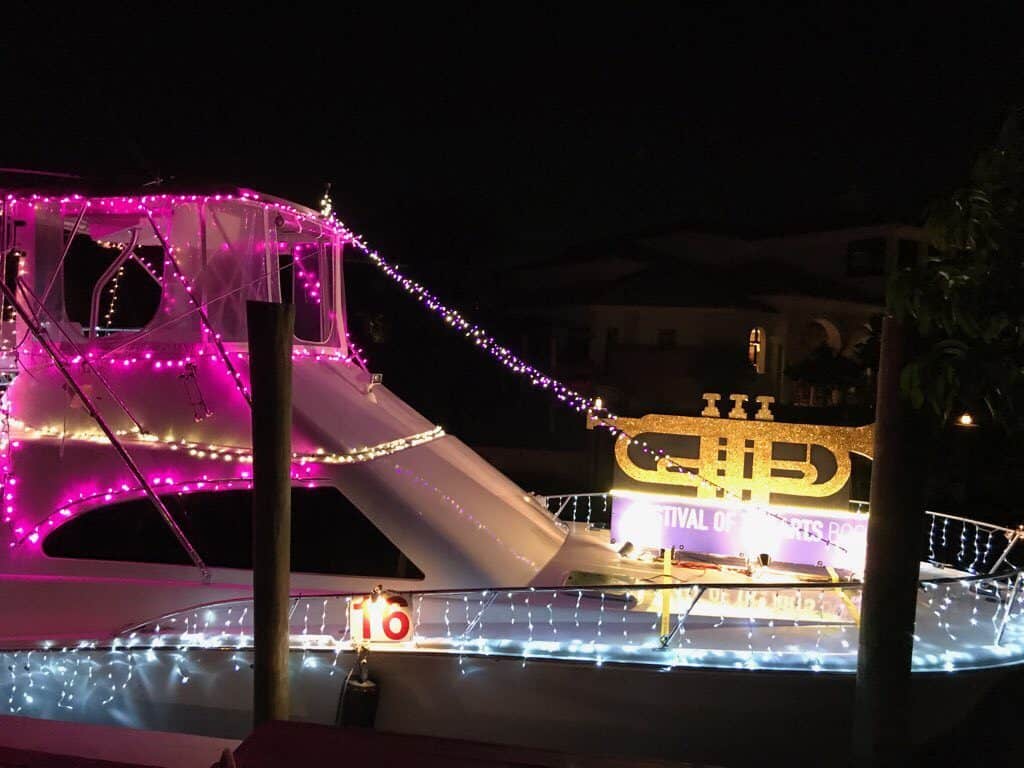 How long did it take you to make this 8 foot trumpet and what was the process?
"It took about 2 weeks to design and build the trumpet. I also studied architecture and sculpture in school, so I was familiar with how to develop a 3-dimensional prop. First, I had to create the drawing, then scale it up by making a grid, I had the tools for cutting it out, painting, glittering, etc. A lot of work, but worth it! My garage floor still glitters!"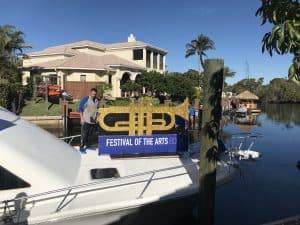 Originally, the trumpet was solely for the boat, but it has found a lovely new temporary home for all to see. Your hard work and commitment to create a piece of art for the Festival hasn't gone unnoticed. Thank you so much for your dedication and for lending your talents to the Festival.
"Thank you for your compliment. I truly enjoy contributing to the Festival and the community. I look forward to doing more creative projects."
Be careful what you wish for Cosimo because we will surely ask you to lend your creative input again for future Festival-related endeavors.