By one measure, Americans are less happy than they have been at any time in the last 70 years.

Gallup reported last week that the vast majority of Americans report being "very" (42%) or "fairly happy" (44%). That's a total of 86% and would seem to be a nice, high number. But it is actually down from 91% the last time Gallup asked about this, in December 2008 (in the depths of the economic crisis).

And, in fact, this is the lowest overall happiness percentage Gallup has recorded in periodic readings over 71 years. On top of that, one in seven (14%) of Americans report being "not too happy," the highest measured to date.
These numbers track with other Gallup findings: specifically that Americans' levels of stress and worry reached new heights in 2018, while their self-reported anger matched the previous high. And, compared with other nations, the incidence of stress in the U.S. was among the highest in the world.

Dr. Laurie Santos is a cognitive psychologist – she studies how people think and how people make decisions. So, she became concerned when she learned about the rising levels of depression and stress among students at Yale. She thought, "we know lots about the simple kinds of things you can do to feel happier on a regular basis, [so] I should teach students all these insights. I should teach them what they're doing wrong and what they could do better to really improve their wellbeing."

She called her class Psychology and the Good Life. She expected to get about 30-40 students. Over 1200 showed up – fully 25% of the entire Yale student body!
In her course, among other things, Santos provided advice on how to engage our uniquely human faculties to counteract evolution, to choose more wisely, and to live happier lives. "What we know about the science of happiness," she says, "is that we kind of get it wrong."

"We have these strong intuitions about the things we think will make us happier," Santos explained in a recent interview, "more money, higher salary, bigger house, the perfect relationship, all this stuff. It turns out that a lot of those intuitions are wrong.

"You know, the simple things that bring about wellbeing aren't always what we expect…These ideas that we have, these strong intuitions that lead us to behave in dumb ways when it comes to kind of maximizing our wellbeing."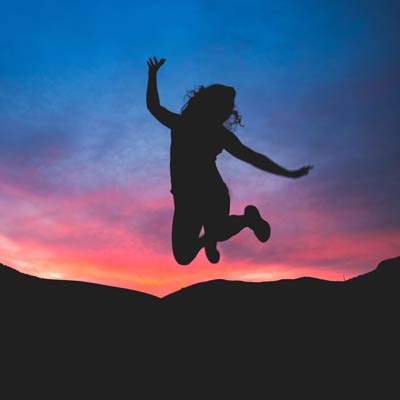 Finding the keys to happiness, Santos says, requires tapping into our primate brains, and observing the behavior and activities of those who report being very happy. And the results are often surprising, but also uplifting.

What is more, Santos says it is entirely possible to "rewire" your brain through some small-step exercises and learn to be happier.

"The science suggests you can know what all these studies say," Santos said, "you can know the kinds of things you're supposed to do, but until you put those things into practice, nothing's really going to change in terms of your wellbeing. And I think that's very important. You have to get out there and do it."

Santos will share these steps that everyone can take, along with the results of her latest research and findings, at her Authors & Ideas event at Festival Boca on March 4. Come join us, won't you? You'll be happy you did!